Brunch and Bubbles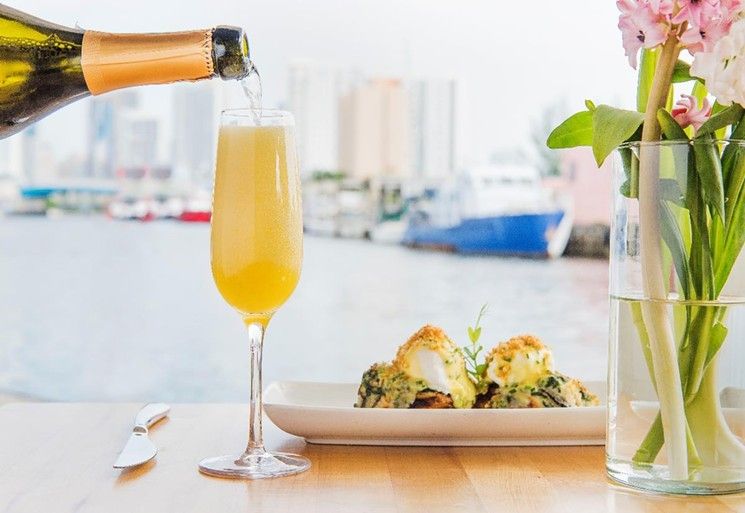 Hosting a dinner party is a big step and a lot of work, it can even be nerve wracking if you're a first timer. This does not mean that you should shy away from entertaining friends and family. You can become an expert host/hostess for a brunch gathering that will have people raving with compliments. Brunch is a great way to get people together, which even a kitchen novice can pull off with great ease.
The trick is to pair store bought items with a few home made things for your food items. Barefoot Contessa, Chef Ina Garten, suggests this herself in several of her cooking shows. Ina will buy items that go well with her planned menu to cut her prep time so she can enjoy herself without having to stress and slave over a kitchen stove all day. If it's a good idea for a celebrity chef, then it's a great idea for anyone to follow.
Here are some tips I like to use when cooking for a crowd:
1. Use Muffin Tins. Frittatas are an easy for brunch item and the best way to make them is with a muffin tin. This gives people individual servings and it's an appealing to your guests because it looks fancy. Cooking whole eggs in the muffin tin is a breeze; baking them is faster and simpler using a frying pan. You can even make hash browns this way! It's a simple trick to utilize for many recipes.
2. Buy pastries instead of making them because this isn't the time to experiment with baking unless you have a foolproof recipe that won't take too much time in the kitchen. Also buying them will give you the variety which would be a difficult task to make.
3. Bake French toast which you can prep the night before and bake off in the morning. Having pre-prepped items like French toast all ready to go for the next morning will make assembling your brunch extremely easy. You will have less items to cook and prepare.
4. If a guest offers to bring something then let them. You don't have to do it all by yourself and it will only make things easier for you. Have them bring fruit or pastries which goes with whatever you plan for the menu. It will also save a trip to the bakery or grocery store.
5. Breakfast sandwiches or burritos that people can put together themselves is always a crowd pleaser. Bacon, Egg and Cheese with fresh baked biscuits is a go-to of mine. You can even cheat and buy frozen biscuits or the prepared biscuit dough.
For beverages, you can't go wrong with the classic pairing of brunch and mimosas, but you can give it a twist by setting up a mimosa bar. Mimosa bars include several types of juices and fruits for garnish that you serve with champagne. Each guest can pick their own flavor combination and top with their favorite fruit for garnish. I like to keep it simple and serve 3 juices: orange, pineapple, and cranberry with my favorite kind of champagne or whatever happens to be on sale that week. I don't hesitate to purchase things with deals because lots of grocery and wine stores do have specials on several bottles of wines purchased this way you can get a bang for your buck. Mimosas are a fun a light drink everyone enjoys, it's the perfect pick me up for the mid-morning affair without going too hard on the alcohol. Also you can control how much or how little champagne you put in the glass if you don't like the 50-50 ratio. For a non-alcoholic swap out the champagne for sparkling cider or seltzer. But champagne and brunch go best! Tip: Freezing berries for the garnish will keep your drink cold longer. Also keep the champagne in an ice bucket to keep them cold for the ideal serving temperature.
Brunch and Bubbles is the perfect way to start off entertaining people or even if you are an expert cook it's a fun way to have a get together without hosting a dinner. It's easy to plan and with help from your local bakery or grocery store you can cut prep time in half which leaves you time to relax and enjoy with the rest of your guests.
Jaytika Nand, is an author and blogger of The Wine Doctor that specializes in Wine, Food, and Relationships. It follows her journey to becoming a Master Sommelier.
---
Add Your Comment